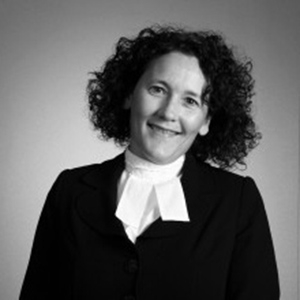 Louise Santamera
CRIMINAL LAW
Louise has 12 years experience of advising and representing clients in criminal matters ranging from road traffic offences to murder, with a demonstrable track record in appeal work. She is accustomed to acting as a junior alone in the most serious and complex cases and is known as a determined and resilient advocate who places emphasis on pro-active involvement at the earliest stages of a case. Louise is also known for her personable and approachable attitude towards lay clients.
Louise has a particular interest in those areas of crime which sometimes overlap with other areas such as employment and immigration. She also delivers training on the topic of Crime & Deportation for BPP Law School.
IMMIGRATION LAW
Before being called to the Bar, Louise gained experience in immigration law whilst working for a specialist immigration firm and has continued to develop and expand her expertise whilst in practice. In addition she delivers deportation training courses for BPP Law School to junior lawyers which keeps her up to date with this controversial and fast developing area of law. Whether it's asylum appeals, challenging deportation orders, providing advice on entry clearance refusals, study or work visas, or advice on the points based system Louise offers a seamless and professional approach to all aspects of immigration work and can also be instructed on a direct basis from anywhere in the world.
EMPLOYMENT LAW
Louise also practises employment law. She accepts instructions from either Claimants or Respondents. In addition to her experience as a trial advocate she is happy to provide written opinions and has advised and acted in cases involving unfair and constructive dismissal, age discrimination, whistle blowing, mediation and compromise agreements. Turnaround of papers is by arrangement otherwise 14 days.    Louise is sensitive to time and resource constraints and is flexible as to the location and venue for conferences.
DIRECT ACCESS
Louise is qualified to accept Direct Access instructions
MEMBERSHIPS
Criminal Bar Association
Northern Circuit
Gray's Inn
NOTABLE CASES
R v JO Large scale class A drugs conspiracy
R v UK Sexual assault
R v JD Vat fraud
R v PM Rape
R v TG s18
R v KH Murder
PC v KH Whisleblowing